This is the official site of '...And Jersey For All', a local Metallica Club chapter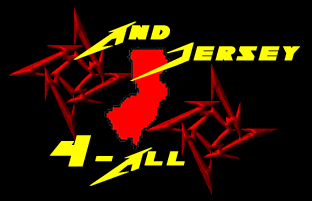 "I have a strong feeling that good things are coming up on the horizon...."
-Niclas from 'Jump In The Studio' site
-9/30/02-

Meet the Members of '...And Jersey For All'
Visit our Chapter Message Board!

Interested in joining the chapter? send us an email!

Chapter News
Saturday December 7th
The Paul Green School of Rock Metallica tribute concert went off without a hitch and the whole show was
awesome! Among the surprises were Dyers Eve and Orion!
Thanks to Will, Vic, Matt and Bob for showing their Metallica pride!
And congrats to Gina who stole the whole show with her singing and riffing!

Saturday, November 16th
Another fun chapter event was held as we spent a day watching Metallica and meeting some new friends!

Saturday, October 12th
Fun was had by all as the 1st ever Chapter meeting kicked off in Philadelphia!
-Pictures to come!

Tuesday, October 1st
'...And Jersey For All' recognized as being an official Metallica Club chapter
on the local zone part of Metclub.com click here

Upcoming Chapter Events:
We are in the early planning stages for another chapter event
Metallica News:
Thursday, December 12th
Metallica WILL be on tour this summer!
-The band will be appearing at the Roskilde Festival in Denmark, June 26
-Also confirmed is an appearance at Rock Am Ring and Rock Im Park in Germany, June 6-8
Metclub.com states that there will be 'more dates to come....'
Upcoming and current Metallica releases:

Now Available!
Finally all in one place - the first ever book of Metallica lyrics IS available with all the
lyrics to more than 70 songs. The hardcover book includes an introduction written by Metclub's
own Steffan Chirazi, the editor of "So What!" Click here to order through the Met Store
Now Available!
"Live Shit: Binge and Purge" will be released in a DVD format. The suggested list price is $59.99.
The set includes 2 DVD discs (San Diego and Seattle shows) and 3 audio discs (Mexico City shows)
all packaged together in some sort of box, but will be smaller than the original so that it
can be found in the CD section. Both the stencil and the sticky pass are apart of the set.
The book is on one of the DVD's to download and print.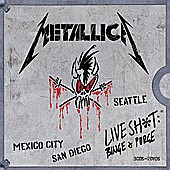 February 11, 2003
The Ramones Tribute record is due for release. It will have Metallica's rendition of
"53rd & 3rd". Other artists on the album include Red Hot Chili Peppers, Marylin Manson, U2,
Garbage, Eddie Vedder and more! click here for complete track list & article
-a funny story-
During Justice tour Metallica played couple of gigs with the Scorpions. Once upon a time in the morning Hetty came to the Scorpions dressing room and asked if they had some beer.

Scorpions - "we are sorry but it's 10 AM..."
Hetty (roared back) -"I didn't ask for the fucking time, I asked if there was any BEER..."
-special thanks goes out to Calavera from the Metclub boards for that interesting, yet humorous, story
Here are some related links to Metallica:
AllMetallica.Com feature's ALL MET RADIO!
24 hours a day/7 days a week!

Listen to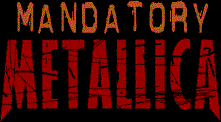 on

with Matt & Huggy

weeknights at 10pm
Request your own 3 song Mandatory Metallica set!
Hear Matt's 'Mandatory Metallica Scream' click here
Philadelphia's #1 Rock Station!